FEATURED STYLE: MODERN MULLET WITH BEARD
It's no secret mullets have come full circle, becoming a mainstay in modern barbering circles. Trading the flare of the 80s for texture, tapered lines, and blurry fades a Modern Mullet takes 'business in the front, party at the back' to a new place.
Executing a mullet is no easy task, striking the balance of not too long and not too short is a fine walk of the plank. One wrong move and your luscious mop is looking down the barrel of a "quick one blade all over."
This Modern Mullet from Benjamin Kane of Bonnie & Clyde's nails the execution and is paired with a mid-length beard while dialling the texture up to 11. The heavy texture on top is helped by the 'C cup' blast on the temple, a technique that draws your eye to the height on top and the shape of the beard. Adding a reverse fade to the beard, enhances the overall shape and length that graduates off the chin creating a seamless transition from top to bottom.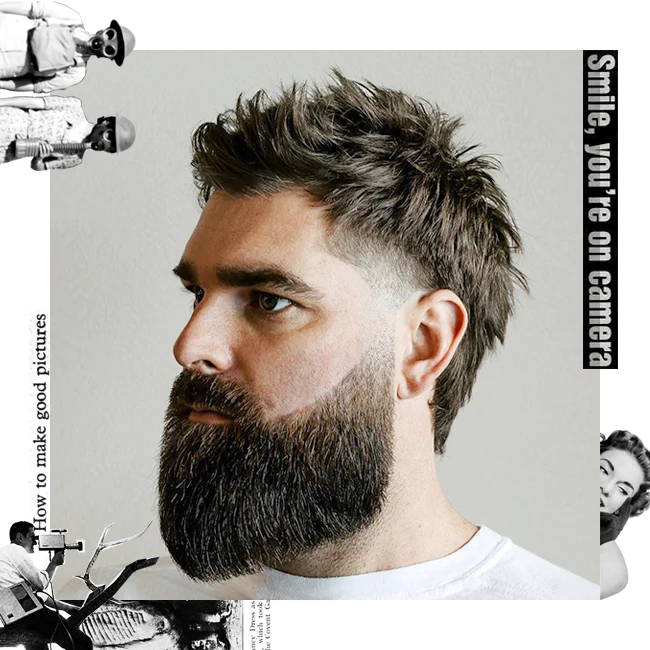 Uppercut Deluxe Styling Powder adds volume and texture to all hair types and lengths with a natural, matte finish.
This volumising powder is re-workable, making it the perfect day-to-day men's hair styling powder. If you're wanting to add texture, volume or control to your hair, without the fuss of a traditional wax or pomade, this the product for you.
Use it to create Crops, Textured Quiffs and longer, looser looks in seconds.
Uppercut Deluxe Beard Balm has been created to keep even the burliest beards in shape, specially crafted for all the beardos out there.
Designed for medium to long beards, Uppercut Deluxe Beard Balm is a lightweight product that spreads easily and adds light control to help structure and style beards.
Uppercut Deluxe Beard Balm gently conditions the beard, adding a healthy shine without becoming greasy.
Topped off with a subtle coconut fragrance, Uppercut Deluxe Beard Balm is a must for a well-kept beard.